Find quality aircraft parts in every situation
---
From routine requests to AOG support – our component on demand services can rapidly provide you with the best standard parts for your aircraft worldwide and 24/7.
Airbus is now offering "On demand" assistance for Line Replaceable Units (LRUs), relying on our aircraft manufacturer expertise.
The service gives you access to:
Serviceable LRUs at latest standard
Complete range of services: Standard Exchange, Loan and Repair
Worldwide stock covering all current Airbus Programs
The loan or exchange of a single component provides you with full traceability and an exclusive aircraft record for optimum transparency.
Our AOG desk, available 24/7, will help you out as quick as possible. You will receive a unit from our own extensive pool and you always have the option of converting a loan into an exchange.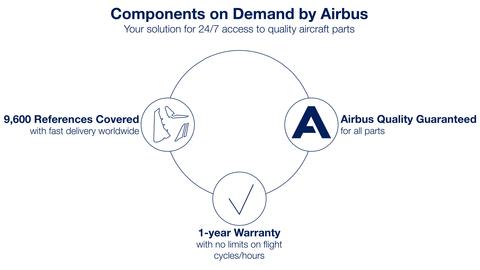 Your benefits
---
Access to 24/7 service, enabling component dispatch within 1 hour

More than 9,600 part number references, meeting the latest technical standards

1 year warranty, no limitation on Flight Hours / Flight Cycles

No subscription fees / Airbus Credit Note can be used for payment

Reduce cash out with our loyalty programme

LRUs for all current Airbus aircraft types: A220, A320, A330, A350 & A380
We serve you wherever you are
---
We supply materials from our warehouses around the globe
Our stocks are strategically located at well-connected airports in North America, Europe and Asia.
Our Component on Demand stock is available from the following locations:
London
Singapore
Kuala Lumpur
Hong Kong
Miami