With more and more aircraft flying and as it gets more challenging for our customers to run their core business, Airbus Services helps delivering on-time services and increasing operational performance. Together with NAVBLUE, we offer digital user-friendly Flight Operations and Air Traffic Management solutions. By combining innovative products in Flight Operations, major improvements for Navigation and enhanced aircraft systems, we aim at increasing savings and efficiency in operation.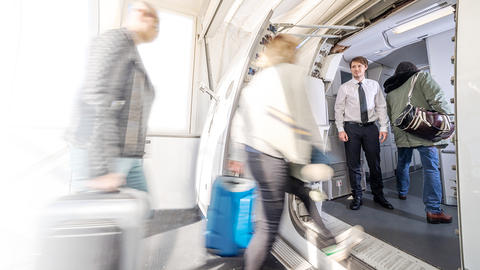 Operate
Flight Operations solutions to help you deliver safe, on-time services and increase operational efficiency
Air traffic doubles every 15 years raising challenges to safety, reliability and the sustainability of aviation itself. To support these challenges Airbus created NAVBLUE, the new generation of digital Flight Operations and Air Traffic Management solutions. Offering user centric innovative products as well as major improvements for navigation, it leads to savings and enhanced operations.
NAVBLUE is a leading services company, wholly owned by Airbus, dedicated to Flight Operations & Air Traffic Management solutions and services for airlines, airports, and Air Navigation Service Providers (ANSPs). We combine aircraft manufacturer expertise, flight operations know-how and agile development to enhance operational efficiency, optimize resources and increase productivity for safe and sustainable aviation. Our global teams deliver a reliable, optimum and customized user experience to more than 500 customers worldwide.