PT Pelita Air Service goes digital with NAVBLUE
Full suite of NAVBLUE solutions for OCC and Flight Operations for the First Mission+ customer in Indonesia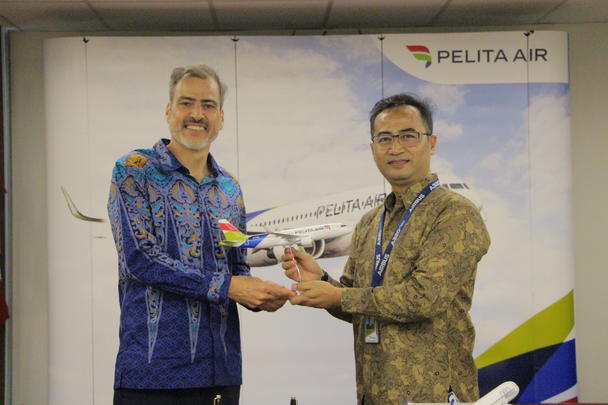 Domestic Indonesian carrier PT Pelita Air Service, a member of Pertamina,  has chosen to partner with NAVBLUE to support its entry into fully digital Operations Control Centre (OCC) and Flight Operations.
The chosen solutions include Mission+, Flysmart+, N-Flight Planning, N-Tracking, Navigation+, Airport Obstacle DataBase (AODB) and Performance Factor Optimizer (PFO).  
​​Mission+, NAVBLUE's Electronic Flight Assistant,optimises the pilot's journey from preparation to closure of a flight: this EFB gathers all the information pilots need in one single application on a globe-centric display and reduces their workload, streamlining the flow of information between ground and onboard systems. Mission+includes an electronic flight folder for mission management, navigation charts and airport moving map, weather information, and is integrated with Flysmart+ for their aircraft performance calculations, documentation and checklists. 
At the same time, PT Pelita Air Services benefits from NAVBLUE expertise for the administration and hosting of Flysmart+.
N-Flight Planning (N-FP) benefits the airline with a more compliant Flight Planning solution, helping the airline optimize on fuel, time and cost, to meet operational needs while ensuring overall safety and compliance;
N-Tracking empowers the dispatcher with flight situational awareness, with aircraft position reports and alerting;
AODB, NAVBLUE's Airport Obstacle Database, supports the calculation of take-off and landing performance of Pelita Air Services in case of an engine failure.
PT Pelita Air Service also uses Navigation+as the navigation database for their FMS (Flight Management System). In addition, Performance Factor Optimizer (PFO), NAVBLUE's web-based tool helps ease the overall Aircraft Performance monitoring process. This web application automatically computes the corrective fuel factor representing each aircraft in its current state of performance leading to accurate fuel prediction.
Capt. Bambang Tarunaning P, Vice President Operations Regular of PT Pelita Air Service, said: "By partnering with NAVBLUE for the launch of our Digital OCC project, we are enhancing our Operational Safety and Efficiency by creating accurate, optimised and efficient processes that integrate into our other operational systems, boosting situational awareness, reducing workload, and minimising human error".
Briac KERIHUEL, Chief Commercial Officer of NAVBLUE, says: "We are proud to support PT Pelita Air Service in their paperless implementation, aligning with their commitment to sustainable aviation. The aviation industry is increasingly reliant on data analytics to enhance flight operations. As airlines around the world strive towards a truly digital Operations Control Centre (OCC), Mission+ is proving to be the key enabler that they need to get there."
PT Pelita Air Service is an Indonesian airline based in Jakarta which operates fixed wing and rotary wing aircraft. PT Pelita Air Service has served charter flights since January 1970 and regular flights since April 2022. Today, PT Pelita Air Service operates 5 Airbus A320-200s for regular flight.
Picture:
On the right: Heru Susilo - Scheduled Operation Director PT Pelita Air Service
On the left: Briac Kerihuel -  Chief Commercial Officer of NAVBLUE
Your contact
Marie Deltort
Communications Manager - NAVBLUE
Adriana Sesma Costa
Communications Specialist - NAVBLUE