How to become a Pilot Cadet?
Screening assessment
2 steps: (1) online (2) onsite screening
Class 1 Medical certification
Eligibility to fly
Integrated ATPL programme
Start training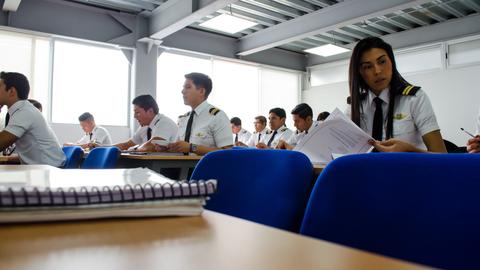 Prerequisites
Min 18 years of age

High School diploma (including Mathematics)

Equivalent to English level ICAO 3*

Medical

Class 1

valid for flight school country (only required for on-site screening)

The legal right to travel, stay and study in country of local flight school for which you are applying (eg. passport or local visa if necessary)

No experience of flight training

For the course in Mexico: Mexican Nationality required
*You are not required to have any formal English certification, however ICAO Level 3 or equivalent of English is necessary to be able to understand and perform the assessment.
 1. Online assessment (you do this at the same time you apply)
Objective: Measure your physical and cognitive skills, Mathematical & English aptitudes and situational awareness (combined test assessing several aptitudes simultaneously)
Equipment required: Computer/laptop with internet access, keyboard and mouse, audio headphones
Location: anywhere (not onsite)
Duration: Approximately 20 minutes
Fee: $40 USD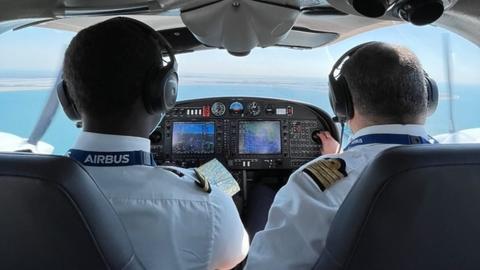 2. Onsite assessment (once you pass the Online assessment)
Candidates who pass the Online Assessment will then be invited by email to attend a 1-2 day Onsite Assessment at the local flight school. The invitation will contain all information you need to know.
Equipment: Provided
Location: Onsite at the local flight school. Further details will be provided in the email invitation.
Duration: 1-2 days
Fee: Contact local flight school. Prepaid before arrival.
First half-day:
Aptitude test: Eye/hand/foot coordination - Eye/hand coordination - Short-term memory - Mental arithmetic (Maths) - Orientation - Multi-tasking- Mental agility - English assessment, verbal reasoning - Physics technical test
Personality test
Second half-day:
Group exercises
Individual interview: to ascertain motivation and further assess English level
Simulator assessment:

Demonstrate ability to progress in a new environment
Workload management
Situation awareness
Visual scan & coordination
Mathematics (mental arithmetic)
*We cannot accept any reimbursement claims for assessments.
Learn more about our Programme
Applications are open 24/7 and if you are successful, you will be allocated to the next available course date.
We are looking for applicants who are enthusiastic about the world of aviation and who are keen to become a pilot. There is no specific preparation to do before you apply. Please see details on the selection process and prerequisites before applying.
The full course duration is approximately 18-20 months. The initial phase is around 18 months including approximately 8 months for the ground training (ATPL theory).
More details here.
For further details or for any questions relating to your particular circumstances, please contact the local flight school.
If you successfully complete the full programme, you will become a qualified pilot with a frozen ATPL (integrated Airline Transport Pilot Licence) and able to operate Airbus aircraft.
How do I start work at an airline?
Once you complete your qualification, you will be able to apply directly to Airlines.
We accompany all Airbus Cadets who qualify from our Training Programme and help support them not only by ensuring they become an operational pilot qualified to Airbus standards - but also by continuously working with airline partners to facilitate this. Especially in this period, we are supporting as best we can pilot cadets finding post training opportunities via our airline customer base.
Do I become an Airbus employee?
Once you complete your qualification, you do not automatically become an Airbus employee but you can choose to train and apply to become an Airbus instructor in one of our Training Centres if you wish.
Application Process fees (payable in full & in advance by the applicant):
- Online assessment: $40USD
- On-site assessment: Please contact local flight school
For Training Programme fees, please contact the local flight school
Please note:
Living expenses (meals and accommodation) are not included however our flight schools can support you. Please contact them for further details.
For any questions relating to your particular circumstances, our local flight schools will be happy to support & discuss further with you.
We are working closely with banks and airlines and hope to be able to provide financing solutions soon to help you fund your pilot training.
Currently, Airbus itself does not finance individual cadets. However our flight schools partners have developed partnerships with local banks to help with student loans.
For further details or for any questions relating to your particular circumstances, do not hesitate to contact the local flight school here to support you.