The simulation packages are developed with Airbus latest Training Policy and Aircraft Baseline which will keep your training devices consistent with Airbus' training curriculum and create the best learning environment possible.
In addition, GO5 provides services which are tailored to your specific requirements to ensure smooth Entry Into Service and operations of your Training Device.
GO5 Simulation Package
Hardware: we propose a set of latest generation aircraft cockpit hardware covering more than 350 items such as:
Major aircraft avionics

Cockpit structures and linings

Cockpit command panels

Access to cockpit Navigator Tool
Simulation Software Packages: Software-based models reproducing aircraft systems such as:
Electronic Flight Control System (EFCS) simulation package

Flight Warning System (FWS) simulation package

Network Server System (NSS)

Natural Flight Loop models: GRM, Aerodynamics, etc.

Engine models
Data Package: Airbus simulation data required to design a simulator based on IATA flight simulator design and performance requirements.
Airbus Aircraft Family : A220 | A320 | A330 | A350 | A380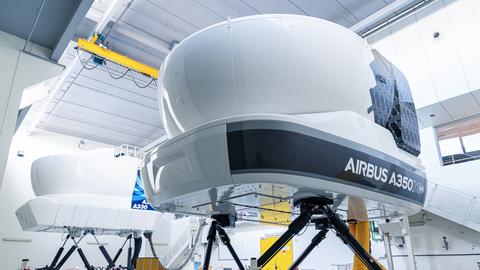 GO5 Services
Simulation updates to bring your device to the latest Airbus configuration

A dedicated Airbus team to support all your training device simulation requirements including on-site support

Easy access to "Training simulation support eGO5"
Airbus Aircraft Family : A220 | A320 | A330 | A350 | A380