#01
BUILT-IN REVENUE OPPORTUNITIES
The A320 Family's outstanding revenue-generation capabilities derive from a  real cabin versatility, brought about by its exceptional Airspace features and cabin enablers,  unique cargo and range capabilities beyond any other single-aisle aircraft.
#02
BUILT-IN EFFICIENCY
Higher efficiency for the A320 Family starts with a state-of-the-art design incorporating NEO engines and sharklets. On our path towards sustainability, we continue to constantly improve our product and optimise fuel efficiency during operations.
#03
BUILT-IN SUPPORT
The A320 Family is the most successful aircraft family ever with its demonstrated maturity and reliability, as well as its proven and extensive support and services platform.
From cabin to cargo, the A320 Family relies on its outstanding capabilities to offer operators maximum revenue generation opportunities.
The A320 Family benefits like every Airbus aircraft family from the outstanding Airspace cabin.
Flying since 2021 on the A321neo, Airspace is offering a unique travelling experience with improved comfort and well-being on board.
Displaying true long-haul comfort in the widest single-aisle cabin, the A320 accommodates full-flat Business seats, wide 18-inch economy seats, as well as extra-large Airspace XL bins which bring 40% more volume and can take 60% more bags compared with previous bins.
Real revenue opportunities
The Airspace cabin can be further enhanced by innovative cabin enablers which have been developed to increase operators' revenue generation, while ensuring passengers retain high levels of comfort.
For all three members of the family, the seating capacity can be increased to offer ultra-high density layouts. Today, 60% of the A320 Family customers opt for a high density layout adding up to 24 more seats on the A321neo.
Optimising cargo efficiency
On top of the standard bulk loading option, for the first time in this size category, a standard LD3 container system can be used to speed-up baggage handling and develop cargo business.
The Cargo loading system (CLS) option brings a significant additional source of revenue for any airline looking to boost their profitability with cargo on a single-aisle passenger aircraft.

On the A321neo, the cargo holds are big enough to accommodate 10 containers that are also compatible with widebody aircraft, creating interlining possibilities across airline networks. With faster and easier loading and unloading, aircraft turn-around-time can also be significantly reduced while preserving goods and baggage from accidental damage during ground handling. Thanks to the ventilation and the heating options available, any type of cargo can fly with the A320neo Family. Last but not least, the large main doors open outwards and upwards offering more convenience for loading i.e. no intrusion in the door space and a shelter from weather.
Thanks to significant performance improvements with the new engine option, the A320neo offers greater range capability, with up to 600nm more range. The A321neo is capable today of flying up to 4,000nm with the A321LR and soon up to 4,700nm with the A321XLR, creating new market opportunities for operators looking to fly long-haul sectors with the lowest operating costs ever.
The A320 Family is the world's most successful single-aisle aircraft family appealing to full service carriers, low cost carriers and new business models alike, thanks to its efficiency, performance and comfort.
The A320neo Family boasts the very latest NEO engines, large sharklets and an innovative Airspace cabin. It is today the most comfortable and fuel-efficient single-aisle aircraft on the market, delivering a 20% fuel burn and CO2 emissions advantage.
Since entry-into-service in 2016, Airbus has delivered over 2000 A320neo Family aircraft, contributing to 10 million tons of CO2 saving.
At Airbus, we significantly invest in R&D to design fuel-efficient aircraft that achieve better environmental performance, including reduced NOx and CO2 emissions. All in-service aircraft can continue to improve their fuel burn thanks to a number of innovative options and services, and the A320 Family is a perfect example of this commitment.
Sustainable fuels
Airbus was the first manufacturer to offer customers the option of taking delivery of new aircraft using a blend of sustainable fuel. Multiple airline customers have benefited from this programme, developed in collaboration with Air Total. With Sustainable Aviation Fuel (SAF), operators can achieve up to 80% CO2 emissions reduction per ton of conventional fuels substituted by SAF.
Today, the A320neo Family is capable of operating with a 50% SAF blend. Airbus is committed up to 100% SAF and intends to have this capability for the A320neo by 2030.
Direct routings can result in approximately 10% less fuel consumption, as well as significantly reduced CO2 and noise emissions. 
To achieve this, NAVBLUE Flight Planning solution rapidly computes flight plans factoring payload, aircraft performance, current weather and air-traffic constraints with the ability to optimise for minimum flight time, fuel burn or total cost. N-Fight Planning is a fully scalable and highly configurable system that can be fine-tuned to meet any airline's specific flight planning requirements.
Descent Profile Optimization
Descent Profile Optimization is one of Airbus Services' system upgrades available today to start operators' journey towards decarbonisation with their A320 fleet. This fuel-saving enhancement to the Flight Management System (FMS) performance database decreases fuel consumption, consequently reducing CO2 and NOx emissions. DPO is already available as a standard on all A320neos and can be retrofitted as a system upgrade on A320ceos.
Extending your single-aisle aircraft's life
Converting an A320 Family passenger aircraft towards freighter activities towards the end of its life proves to be a valuable choice to maximise your aircraft's yield. The A321P2F offers the largest usable cargo volume of its category and generation. With a payload capability of up to 28t, it offers up to 14 full container positions on the main deck, plus the unique A320 Family container (up to 10 container positions) and pallet loading capability on the lower deck.
At the end of the aircraft's life, Airbus and Tarmac Aerosave have established a proven method with up to 90% of the aircraft eligible for reuse or recycling. In 2005, Airbus became the first manufacturer to undertake a voluntary approach to aircraft decommissioning and aircraft recycling.
As the leading single-aisle aircraft Family on the market, the A320 Family demonstrates strong maturity and reliability, supported by a robust network and portfolio of services.
With over 115 NEO operators worldwide and more than 2000 aircraft in service, the A320 Family is one of the most successful aircraft families flying today. This success relies on outstanding capabilities but also on demonstrated maturity, confirmed by a 99.7% Operational Reliability.
Airbus Services is represented in every region of the world, covering all capabilities, from spares warehouses to training centres. We continue to expand our global footprint with a growing network of facilities to continuously improve our service to our customers. Today, Airbus Services counts more than 65 locations to support airlines and operators all around the world.
For a better experience on mobile, please click here
Covering the entire aircraft life cycle
Airbus Services offers a wide spectrum of solutions to help operators secure operations and optimise efficiency. Our portfolio covers all activities from your team's training to ensure alignment between competencies and your business needs, to maintenance solutions for maximum efficiency and aircraft enhancement upgrades to best adapt to your market needs.
---
Continue exploring the A320neo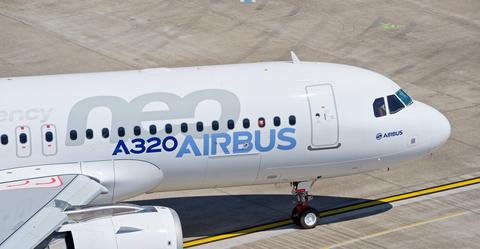 Future-proof solution
Step into a new era with a versatile aircraft family, cutting-edge innovations and a suite of digital solutions.