#01
ADVANCED FOR ANY BUSINESS MODEL
The A330neo is even more efficient than its widely successful predecessor. Accessible and profitable on any sector length, current and future operators can minimise their risk for their widebody operations.
#02
ADVANCED TO BOOST REVENUES
Versatility is part of the A330neo DNA. Operators can choose from many weight and engine performance options to suit their business model, as well as take advantage of its superior revenue-generating cabin.
#03
ADVANCED TO OPTIMISE COSTS
Airbus aircraft commonality results in significant cost-saving opportunities. Airbus Services offer operators a mature global support infrastructure to optimise the A330neo's commonality benefits.
Unique versatility and exceptional economics lowers risk for operators
To ensure profitability across all business models, sectors and seasonal demand changes, the A330neo Family's unbeatable efficiency and superior per seat economics considerably lowers risk for airlines venturing into new operations, even on routes at lower demand levels.
The A330-800 will seamlessly fit into our fleet expansion and growth plans. Its unbeatable operating economics and performance in addition to best in class passenger comfort make it a sound investment.
      Yousef Al-Jassim, Kuwait Airways Chairman
Minimum risk. Maximum efficiency.
The A330neo offers an impressive 25% fuel burn reduction per seat, compared to previous generation aircraft, achieved through the new high-bypass engines and high-span wing. Additionally, the A330neo displays 25% lower maintenance costs with longer maintenance checks and its new airframe components since entry-into-service.
Lower your risk with the mature A330 platform delivering 99.5% proven operational reliability and lower maintenance costs
More performance options from engine to airframe ensuring versatility for operators.
The versatility of the A330neo is one of its greatest strengths. Capable of delivering efficiency in all sectors from short, high-cycle environments to long-haul operations, the A330 currently dominates the regional market. This efficiency is maximised via optimised options to reduce costs on the short to medium sectors, with lower take-off weights and lower thrust ratings, adapting to a variety of uses.
Delivering maximum revenue opportunities in its superior Airspace cabin
The A330neo's Airspace cabin is a key differentiator compared to competitors. The improved passenger experience leverages all comfort features to boost ancillary revenues. 
Airlines can visually extend their brand across their single-aisle and widebody fleets to provide reliable brand consistency across the passenger airline experience with the easily customisable Airspace Cabin lighting features.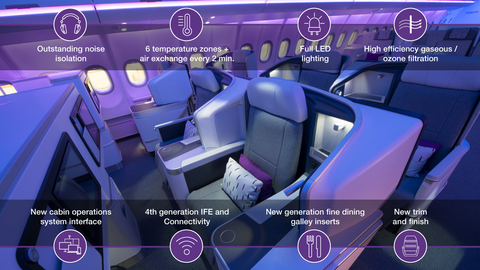 Unmatched comfort and efficiency
The A330neo has been designed to give operators more choice when equipping the cabin. Depending on different business models, 8- or 9-abreast configurations are available to give operators more flexibility, as well as a future-proof cabin that can be adapted if remarketed. From 220-300 seats, the A330neo Family also offers up to 460 seats* in a 9-abreast high-density configuration, allowing airlines to maximise revenue potential through competitive pricing for their customers.
*Subjected to certification
Airbus Family commonality enables significant cost-saving opportunities whether operating different Airbus aircraft types or replacing previous generation aircraft with the A330neo. An Airbus single-aisle operator for example will unquestionably lower their risk when extending to widebody operations with an A330neo.
Commonality cost savings come from many sources. With Airbus Services, operators can take advantage of all Airbus commonality benefits easily, from reduced pilot, crew and maintenance team training to spares and tooling optimisation. All enabled by Airbus Services single field support solution. For operators wanting to smoothly integrate the A330neo as a new type into their fleet, special entry-into-service (EIS) packages are also available.
Operators can also benefit from the highly competitive Services aftermarket delivered by Airbus' mature Services A330 platform. Guaranteed easy access to inventory, training, spares and tooling, Airbus Services' Material and Maintenance portfolios bring a definite advantage in lowering upfront investment and risk for operators with solutions such as Flight Hour Services (FHS) or Component on Demand.