#01
ADVANCED TO GROW OPERATIONS
The A330 has solidified its place as the most popular widebody ever. Dominating the 220-300 seat market, the A330neo Family will continue to bridge single-aisle and large widebody operations more efficiently and profitably.
#02
ADVANCED FOR THE FUTURE
The A330neo is firmly in place to seamlessly deliver the most advanced and sustainable aircraft for current A330 operators and the broader entry-level widebody market for years to come.
With over 1800 firm orders and flying with more than 120 customers across the globe today, the A330 has solidified its place as the most popular widebody ever.

The A330neo is the entry-level, long-range widebody that can step up for operators as routes and ranges grow. Designed for regional and enhanced for long-haul, the A330neo is the perfect fit between single-aisle and large widebody aircraft.
Gain maximum agility with the A330neo's proven versatility, delivering more range, payload and comfort when needed. Operators can adapt seamlessly to seasonal demand, grow existing routes or explore new business opportunities.
Get even more profitability and sustainability through Airbus' family fleet partnerships.
With the pairing of just two Airbus aircraft types, operators can easily achieve full market coverage. Enabled by Airbus' commonality, and with added range and flexible capacity, operating costs are significantly reduced.
Today, the A321neo and the A330neo have proven to deliver up to 30% lower operating costs when operated together. Equally, the A330neo and the A350 partnership is not only extremely versatile from regional to ultra-long-range, but also highly efficient, with 25% lower fuel burn and CO2 emissions versus previous generation aircraft.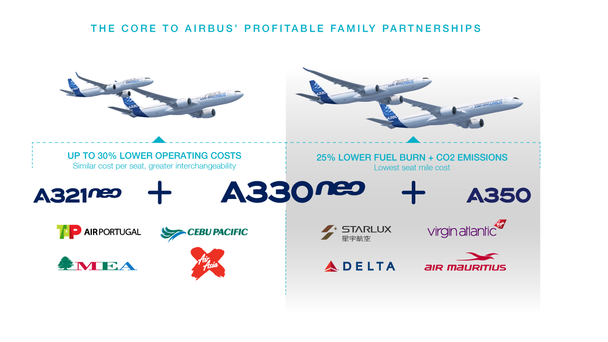 Complemented by Airbus' unique OEM expertise and Airbus Services, the A330neo benefits from the highest level of support and enhanced operations across its entire life cycle. Continuous improvements brought to the aircraft and harmonisation from line fit and retrofit upgrades will ensure your operations remain efficient, help ease your aircraft's management, and retain your asset's value.
Airbus Services offers many applications to streamline operations and generate more savings to add to operators' bottom line, including when operating mixed fleets.
Building on the proven success of the most popular widebody ever, may it be in number of aircraft or in number of frequencies, the A330neo's entry-into-service has been timed strategically to meet the considerable future replacement demand with a more efficient and sustainable aircraft for the 220-300 seater category.
After only 2 years in service, the A330neo has shown high utilisation and outstanding Operational Reliability (OR), making it the ideal replacement of previous generation aircraft.
With ongoing programme enhancements and investment, the A330neo is constantly evolving. Together with Airbus Services and partners such as Rolls-Royce, the continuous development of the A330neo Family ensures to fulfill future market demand while adapting to the latest trends, technologies and regulations.
 The A330-900 is going to be an important addition to Delta's fleet. Airbus has infused this next generation of the successful A330 Family with new technology and features providing advanced levels of comfort for our passengers and significant operating cost reductions that will make our airline stronger in the decades to come.
      Ed Bastian, Delta Air Lines CEO
Always up-to-date with Airbus Services
The vast offer of Airbus Digital Services and dedicated upgrade solutions are designed to keep the aircraft up-to-date, while protecting asset value throughout the life of the aircraft. Each portfolio is specifically created to help you bring the most out of your A330 fleet.
---
Continue exploring the A330neo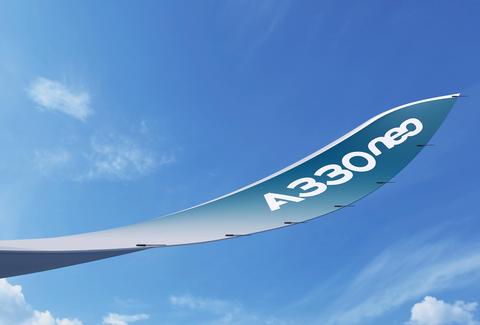 Advanced to future-proof your widebody fleet
Proven maturity with the latest technology and new generation economics
Advanced to easily introduce widebody operations
Lower your risk with the most versatile and accessible widebody designed with even more revenue-generating features