Services accompany an aircraft throughout its entire life-cycle, from before the Entry-Into-Service up until its dismantling and recycling. The GSF looks at the evolution of this fast pace, evolving and exciting market, navigating the industry to anticipate where, when and how we should develop future services capabilities.
Watch the Global Services Forecast replay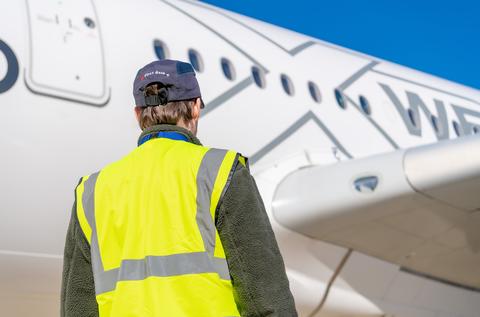 The commercial aviation business is all about safely connecting people and moving goods around the world.
Every day, millions of skilled people are working hard to operate, maintain and enhance more than 23,500 aircraft (above 100 seats) and train staff.
Since the COVID crisis started, services have been continuously adapted to ensure fleets remain operable, allowing transportation of critical goods, and progressively enabling people to fly and connect again.
2022 is the year of transition in the industry. Flight Cycles, one of the key drivers to forecast services demand, are recovering at different paces, depending on routes and regions. Even with pandemic restrictions being progressively lifted; supply restrictions and skilled workforce shortages, coupled with economic uncertainty, is affecting the short-term traffic recovery.
Services are hitting the ground running, with an additional 21% spend expected in 2022 vs 2021, representing an annual demand of $95Bn. Major business opportunities for aftermarket players are being created due to operators seeking more resilience and flexibility in contractual conditions, prioritising fuel efficiency solutions, looking to ease maintenance bottlenecks constrained by current capacity and reinforced connectivity enablement.
In most aftermarket business domains, recovery to pre-crisis levels is expected in 2023, with maintenance and training markets at the forefront.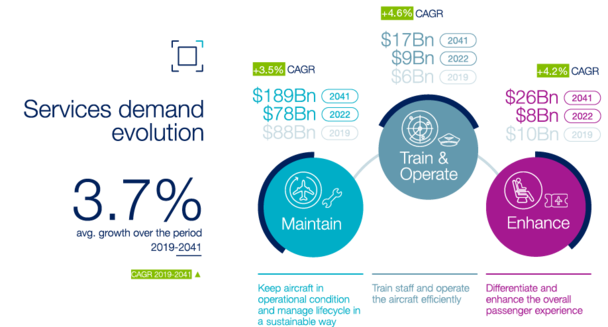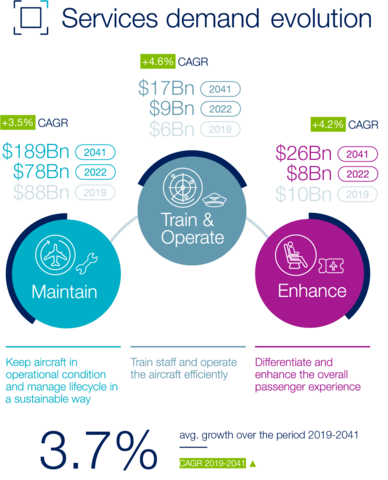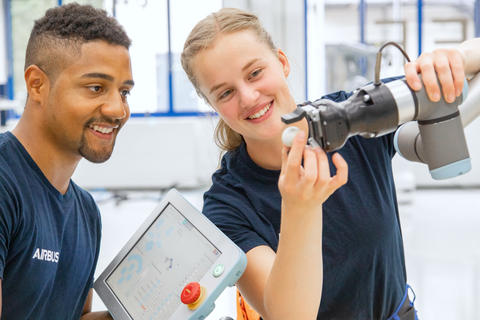 The number of passengers will double to reach more than 9 billion by 2041.
This significant increase will generate a rise in demand for legacy and new services so the industry will need to adapt to do more with less. Impactful and innovative technologies will be required and sustainability ambitions will shape the next steps for commercial aviation services.
The services market is expected to more than double over the next 2 decades (+3.7% CAGR - Compound annual growth rate), with a higher than ever demand for skilled labour: 585,000 new pilots, 875,000 new cabin crew and 640,000 new technicians. Operators will need to focus on their core business with the aim to reduce risk and improve aircraft availability, they may mitigate their investments and outsource non core activity such as maintenance. New services will be driven by sustainability and enabled by digital and innovation which will drive efficiency and support CO² net zero ambitions.
By 2041, new generation passenger aircraft will represent 95% of the operated fleet. As a direct consequence for services, we foresee an industry requiring new competencies (digital, automation, connectivity, etc.), where services become fully integrated into the aircraft platform and aviation ecosystem. Fuel supply, energy consumption and overall lifecycle are significantly optimised. Linking with door-to-door transportation solutions could reshape the market towards a more traveller centric approach.
Over the next 20 years, we will considerably change the way we supply commercial aviation services. But one thing will not change…
Aviation services will be one of the most advanced and international industries that keeps people at its heart.