@Airbus @ChinaMobile7 #ACIC #5G #connectivity #AIX2022 
Air

bus teams up for industrialisation with China Mobile and China Southern respectively
Enables new opportunities in areas of digital cabin services and aviation big data
Creating fast & low-operational priced seamless broadband connectivity to enhance cabin experience
Hamburg, 15th June 2022 - Airbus has signed a Memorandum of Understanding (MoU) with China Mobile (Shanghai) Industrial Research Institute, a subsidiary of China Mobile focusing on transportation, to cooperate on industrialization and pilot phase flight route trials for the application of 5G Air-to-Ground (ATG) connectivity in China. This cooperation covers new service solutions in connected cabin, cabin experience and digitalization.
The companies agreed to jointly address the 5G ATG market in China and to explore synergies for new end-to-end broadband connectivity services. The technical maturity for operation shall be validated in a joint effort, with the check of RF compatibility at aircraft level, including potential interference risks in C band with Radio Altimeter. After certification, the system operation and business value shall be demonstrated and reviewed in an in-flight service evaluation over Chinese flight routes. 
Beyond this, the companies will jointly explore business models to achieve win-win results for all the parties involved in this business, including the end users who will be benefited from the broadband connectivity. 
Airbus has also signed a Memorandum of Understanding (MoU) with China Southern, to jointly define pilot case system embodiment and joint in-service evaluation. 
Connectivity onboard the aircraft is a major development area for the aviation industry in the coming years. China has a large aircraft fleet with a continued growth potential. The 5G ATG is complementing the SATCOM for domestic broadband connectivity. 
Initiated and driven by the Airbus China Innovation Centre, 5G Air-to-Ground broadband connectivity shall be now developed by Airbus Customer Services with the aim to provide best industrial solutions with leading technologies for retrofit implementation.
On top of this collaboration, Airbus is also participating on the 3GPP standardisation and working with different international partners on the 5G for aviation industry.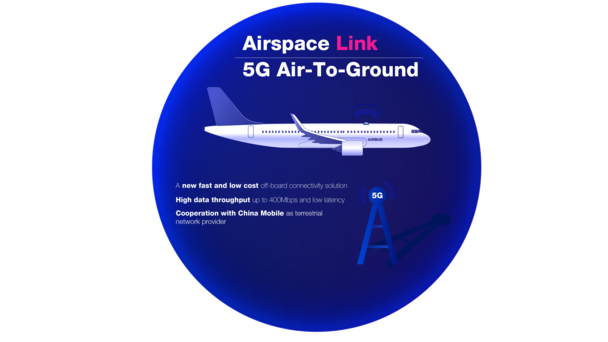 #Airbus #5G #ATG #Air-to-Ground #Connectivity #AirbusServices 
Your contact
Lois Benquet
External Communications - Airbus Commercial Aircraft
Tina Li
Airline Marketing Director