Satair and Siemens S.A.S. renew Asia Pacific exclusive distribution agreement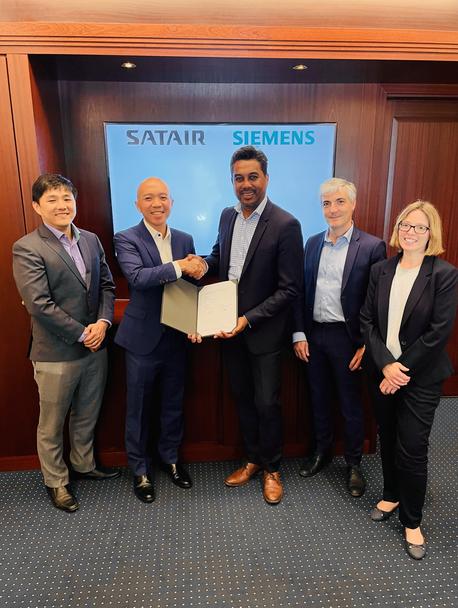 Aircraft Interiors Expo, Hamburg, June 15 — Satair, an Airbus Services company and world leader in the commercial aerospace aftermarket, and Siemens S.A.S. have signed a contract to renew their exclusive distribution agreement covering airborne fire protection systems including smoke detectors for the Asia Pacific. In addition to spares distribution activities, Satair also operates an authorized repair station for Siemens in Singapore to support the customers in the Asia Pacific.
Siemens S.A.S. specializes in the field of designing, manufacturing and selling airborne fire protection systems. Satair and Siemens S.A.S. have been working in close collaboration since 1999 with a repair station in Singapore being established in 2006. 
We are pleased to strengthen our good partnership with Siemens and truly value their continued trust in Satair. We will continue our focused efforts to deliver world-class support to both our mutual customers and Siemens. 
Rene Frandsen, Managing Director for Satair Singapore
We are pleased to renew this agreement and enhance our close relationship with Satair. We trust that this collaboration will ensure a solid foundation to provide support for our customers as we recover from the pandemic together. 
Andry Rakotomanga, Director of Aerospace Operations for Siemens
--
About Satair 
Satair is a global company and world leader in the commercial aerospace aftermarket. The company supports the complete life cycle of the aircraft with a full and integrated portfolio of flexible, value-adding material management products, services and tailored support modules across all platforms. As a key part of Airbus customer services, Satair has exclusive or primary distribution arrangements for aerospace component manufacturers and supplies parts to multi-fleet customer airlines and MRO companies. It also fulfils the material service support obligation for the in-service fleet of more than 11,000 Airbus aircraft. Visit www.satair.com.
About Siemens S.A.S.
Siemens Smart Infrastructure develops, sells, and supports state-of-the-art airborne fire safety systems for every kind of aircraft. Starting with the Concorde in the 1960s, Siemens' expertise in smoke detection is now protecting more than 10.000 planes across the world.
Taking into account the specificities of each program, Siemens engineers develop groundbreaking generations of systems with an unmatched reliability, responding to any type of fire, and filtering out any source of spurious event such as dust, mist, or contamination. Whether it be PAX, freighter, VIP, or military applications, Siemens has the most suited portfolio to match all operating needs. www.siemens.fr/airborne
-- 
Your contact
Kasper BODENHOFF JENSEN
Marketing & Communications Specialist