Republic Airways signs long-term partnership with NAVBLUE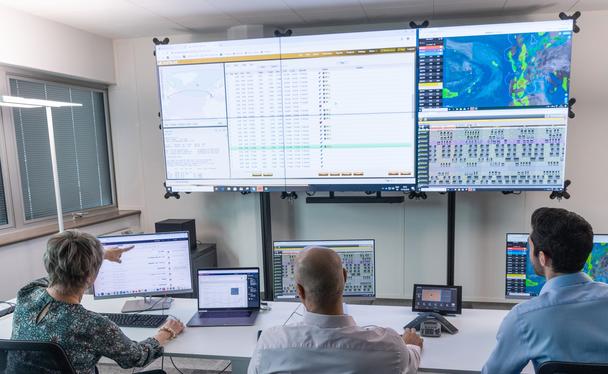 Digital

Systems Operations Control (SOC)

suite of solutions to streamline and enhance airline operations

One of the largest regional airlines in North America operating over 200 aircraft

NAVBLUE and Republic Airways have just signed a long-term strategic contract for Flight Planning, Crew Management, and Operations Control technology and solutions. 
The cooperation between Republic Airways - one of the largest regional airlines in North America, operating over 200 aircraft for three mainline carriers in the US (American Airlines, Delta Air Lines and United Airlines) - and NAVBLUE is established by a multi-layered partnership that will benefit both parties.
By selecting NAVBLUE's "Manage by Exception" suite of operational solutions, Republic Airways will benefit from state-of-the-art solutions designed to optimize critical resource planning, enhance operational decision making and effectively manage its day-to-day operations. Republic Airways will strengthen its position as a thought leader and a technological pioneer in the competitive North American commercial airline business, with enhanced situational awareness and seamless, contextual collaboration in a harmonized digital platform. 
With this collaboration, NAVBLUE positions its Digital Systems Operations Control (SOC) Solutions as a partner of choice on the North American market with a large, sophisticated operator, and will benefit from the experience and operational expertise of Republic Airways, as well as from its market thought leader position. 
The agreement includes two complementary NAVBLUE solutions: 
N-Flight Planning,

which will help Republic Airways to optimize their flight operations by enabling flight dispatchers to rapidly compute flight plans, factoring payload, aircraft performance, current weather and air-traffic constraints.

N-Flight Planning

will also bring added-value to the airline by optimizing for minimum flight time, fuel burn or total cost. 
N-Ops & Crew

gives the opportunity for Republic Airways to plan and distribute their network schedules and maintain full operations control with configurable operating rules. This single solution for both Operations & Crew management will also allow Republic Airways to eliminate manual efforts today, and to automate, manage and optimize crew schedule planning, day-of-ops crew control, crew training and qualifications, and finally, crew mobile access. It will increase efficiency, provide quicker recovery for irregular operations and cover open flying.
Marc Lemeilleur, CEO of NAVBLUE, says: "We are very proud to count Republic Airways as a new customer in the North America region. Our innovative, flexible and highly configurable solutions will help the airline enhance and streamline their operations, both in terms of planning and cost control".
Paul Kinstedt, Senior Vice President and Chief Operating Officer of Republic Airways, adds: "We are excited to begin our strategic partnership with NAVBLUE, leveraging their solutions to enable Republic Airways to modernize its platform and drive innovation. This will enable us to better meet the needs of our partners and associates and continue our leadership in the regional airline industry".
Your contact
Marie Deltort
Communications Manager - NAVBLUE
Adriana Sesma Costa
Communications Specialist - NAVBLUE