Welcome to aircraft.airbus.com! The new Airbus website tailored for our Customers.
The idea of this website stems from the will to create a customer-centric environment where Airlines, MROs and Lessors can gain an end-to-end view of the aircraft and the portfolio of services during the entire aircraft life cycle.
Over the last few years, the Airbus Services offer has grown to better support our customers' daily operations and to give the best view on how services can answer customer needs. Building on that success, aircraft.airbus.com aims to go a step further by providing an even more global view of how Airbus can support the commercial aviation industry and bring solutions to Customer pain points.
On the Aircraft side, Customers can discover in-depth information about the variety of solutions the Airbus aircraft provide to meet operational needs and adapt to the market, from low-cost and full-service carriers to air freight operators.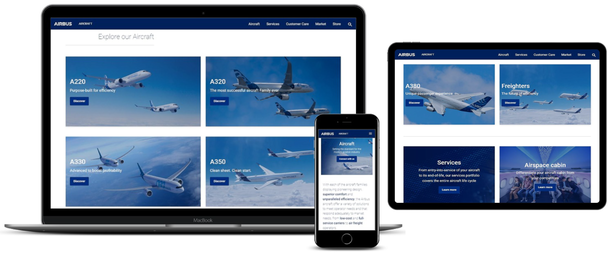 In addition to providing brand new insights on how Services can be leveraged depending on the aircraft type to gain the best results, the Services offer has been reshuffled into 5 categories to better reflect the reality of customer needs and clarify the portfolio for increased readability:
As with services.airbus.com, the new website is the easiest entry-point to access the Airbus Services Store, where Customers can discover an e-commerce shopping experience with the possibility to book training courses and to buy online available products & services like Ground Support Equipment and GO5.
New content also supplements the overall Airbus experience, with new sections on our approach towards excellence in Customer Care and how every day our teams can support Customers in reaching the highest levels of fleet efficiency, before, during and after the delivery of an aircraft.
The new Market section in its turn provides valuable insights on the Commercial Aircraft market as a whole, by decrypting data and trends.
Finally, aircraft.airbus.com is the best place to keep up-to-date with the latest Airbus Commercial Aircraft news, combining for the first time articles on aircraft and services alike.
Check out our website teaser on YouTube
Enjoy discovering your aircraft.airbus.com experience!
Your contact
Mark Crompton
Editor-in-chief aircraft.airbus.com - Airbus Commercial