One year after the inaugural mission of Airbus' new Beluga transport service, the operation has been gathering pace – with its first two A300-600STs now traversing the globe delivering special payloads for its customers. The third aircraft will join the fleet later this year, and by the end of 2025 all five BelugaST airframes should be in operation, raising the combined capacity up to 200 missions per year.
New dedicated subsidiary
In July 2022 Airbus created a new dedicated subsidiary company – "Airbus Beluga Transport" (AiBT) – which will in the near future be responsible for operating the fleet of Belugas under its own Air Operator Certificate (AOC). Currently, all the Beluga missions continue to be operated by teams from Airbus Transport International (ATI) – on behalf of AiBT. In particular, ATI provides the load certification for each flight, the flight crews, the ground personnel and ATI is in charge of managing the Operations Control Centre (OCC).
Operational highlights in 2022
Benoit Lemonnier, AIBT's recently appointed managing director brings us up to speed on the notable achievements and highlights in 2022: "Together with ATI we've made great progress in the first year of operations: We performed six real missions with payload which means we could really convince Airbus Helicopters and Airbus Defence and Space (ADS) about the confidence they can place in our solution to deliver their outsized cargo to their customers anywhere in the world."
The first mission – to deliver a new Airbus H225 helicopter from Marseille, France to Kobe, Japan – was followed by four more H225 deliveries to Singapore and one ACH160 to Sao Paulo in Brazil.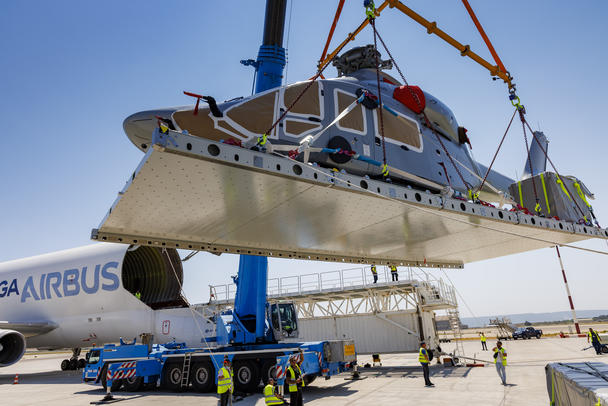 The year also saw the first delivery by the new service of a space vehicle: an Airbus-produced Hotbird 13G telecommunications satellite to Cape Canaveral in the USA. Following-up on this milestone, at the time of writing a second Airbus-made satellite, this time for Inmarsat, had just been delivered by Beluga to the Kennedy Space Center, in preparation for its launch on a SpaceX Falcon 9 rocket.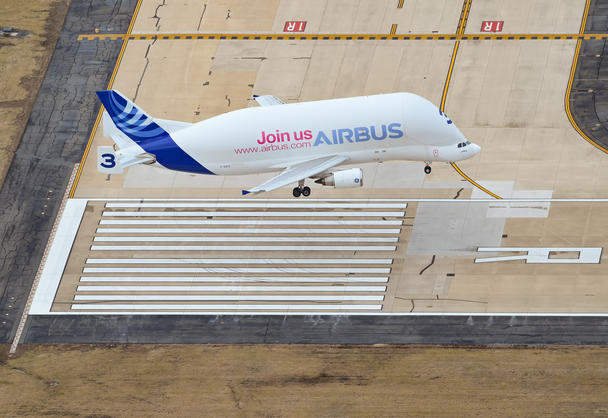 "For this year we have an ambitious plan to deliver more than 30 missions. So we have great expectations," says Benoit.
Expanding the external customer base
While up to now introductory operations have focused on other Airbus divisions, the aim of course is to take on an increasing proportion of external customers.
Reza Fazlollahi, Head of Sales at AiBT provides an update: "Today we have already filled almost 50% of our slots for the year. While most of these are for helicopters plus some space satellites for Airbus group, we also have additional customers for various types of cargo as well, including 20-foot and 40-foot containers. This year we also aim at transporting aircraft engines and more helicopter types – including those from other manufacturers."
He adds: "During this year we will deliver space modules for external customers. 2023 will also be the first year when we'll be using the BelugaXL to transport outsized cargo from Europe to North America."
"Every day we receive requests for quotations from customers all around the world, and they're very excited to be able to charter the Beluga," he observes. "Many of these requests are for transporting voluminous cargo, such as large containers for machinery production equipment – for which the Beluga is the perfect solution. Eventually, most of the customers will be from outside the Airbus group."
Enhancing sustainability in operation
Reza identifies additional opportunities: "We aim to maximise revenue while being more environmentally sustainable on our pre-positioning and back-to-base post-positioning flights (ie not flying empty on these sectors) by allocating some general cargo, such as the standard 20-foot containers and transporting them at the market price. This will also contribute to amortising our costs."
He notes: "The Beluga is already certified to fly with sustainable aviation fuel (SAF), so whenever we can source fuel we will try to use that as well."
Becoming an independent new airline
Aside from ramping-up business from new customers world-wide, the big goal for this year is for AiBT to become a new airline with its own Air Operator Certificate (AOC) – thus becoming fully independent from ATI and Airbus Operations. Concurrently, work is underway to on-board full time AiBT staff to be fit for entry-into-service, either from internal or external hirings. By the end of the year it aims to have around 80 staff.
Meanwhile a taskforce is intensively engaged in authoring the operating manuals, preparing the safety management system and IT tools for the new airline – while applying the best practices of 25 years' experience from ATI.
"We aim to build trust with the authorities that AiBT will safely start operations with the new company in all aspects," says Benoit.
"It's a 'masterpiece' of work by all the teams at ATI and AiBT to implement all airline procedures," he enthuses. "With the fruits of our joint efforts, we plan to be ready to submit our AOC application to the French DGAC national airworthiness authority by latest April, and hopefully it will be granted over the summer."
Aircraft systems and cargo loading upgrades
Various capability upgrades to enhance flexibility for the aircraft's loading capability are also being phased-in over the next couple of years to match the service's new external customer-oriented missions.
"We've recently received our first On-Board-Cargo-Loader (OBCL) equipment. We also plan to install a new flight management system (FMS) with a worldwide navigation database, an on board heater (to protect sensitive cargo from rapid temperature changes and related condensation during ascent and descent), as well as a Class-E cargo hold fire-suppression system."
The Class-E capability will confer added flexibility and enable shorter approval lead times for transporting new types of non-inert cargo – such as items containing Li-Ion batteries for example. Whereas up to now the Beluga has typically been tasked to carry inert metallic and composite aircraft structures between Airbus sites only.
"The OBCL is the most prominent enabler at least in the short term since it will facilitate self-embarking and self-loading/unloading capability for payloads of up to 20 tonnes. This will allow us to perform autonomous operations at the airport, for example by not having to bring in an external fixed platform and a crane," highlights Benoit.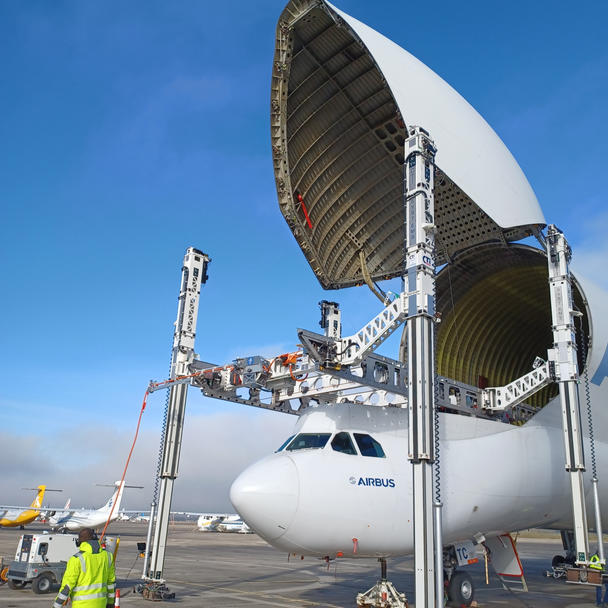 The first OBCL is already being tested at a secondary airport near Toulouse. For these initial trials the team is deploying and retracting the OBCL from the Beluga without payload. Later this year they will progress to tests with actual payloads.
"Once the OBCL is operational it will be a game changer for some missions if we can go there with the OBCL because it will allow us to be much more reactive to serve more routes," he stresses.
AiBT already has around six of the specially developed Outboard Platforms (OPs), and is manufacturing up to another 10 to be ready by the end of this year. OPs, which can handle the Beluga's largest and heaviest loads, will be pre-positioned around the world to be as close as possible to the customers.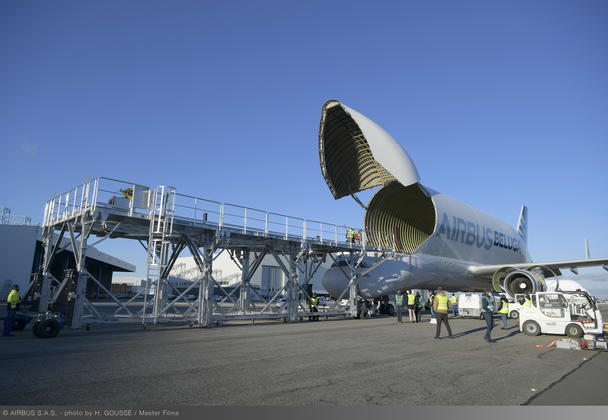 Another enabler is the Multi-Purpose-Pallet (MPP). This is an artificial floor to which cargo is attached and which interfaces to the load-bearing attachment points inside the aircraft.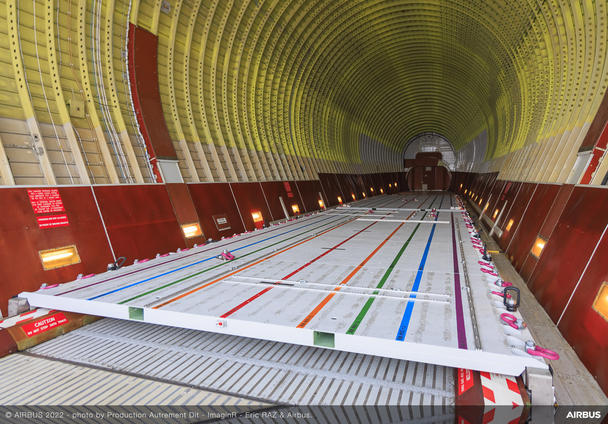 New dedicated airport and maintenance bases 
In order to become fully independent from Airbus Operations at Blagnac, AiBT is already developing a presence at a new main base: Francazal Aéroport situated south-west of Toulouse.
"Today, we are still operating out of the Saint Martin site and Toulouse Blagnac airport, which is competing with Airbus as an OEM, and this is not sustainable. Therefore we will secure our new base at Francazal and start and finish our missions there. We are already renting a building as well as several parking places. Moreover, for maintenance, the aircraft would be positioned at an aerodrome facility in Bordeaux," he reveals.
The way ahead in 2023
Benoit is confident for the year to come: "There's a growing demand for our Beluga service and we have demonstrated last year our ability to perform more missions, so we have a correspondingly ambitious plan to create and grow our airline industrial system."
"Full success will come also with simplification and flexibility in our Beluga operations," he predicts. "A prerequisite for maximising utilisation of the aircraft will be that we can take new payloads. So that we are working towards a simplified certification process with a shorter lead time and this is still ongoing. And in parallel we are building the second airline which should come to birth in the summer."
Your contact
Martin Fendt
Airbus Corporate Communications - Airbus Commercial Aircraft
Heiko Stolzke
External Communications - Airbus Commercial Aircraft