Turbulence can put stress on passengers, crew and aircraft. In worst cases, it can also lead to injuries as well as aircraft damage.
What if pilots had more advance warning and more precise data about upcoming turbulence thanks to a collaborative digital solution? What if they could prepare themselves and their passengers and even avoid the zone altogether?
---
Better predictions for better planning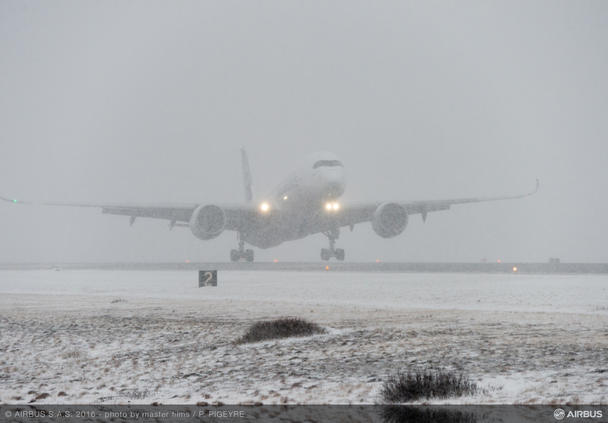 In an effort to avoid turbulence, flight operations and flight crew try to anticipate and/or create the best trajectory, during the flight planning phase or whilst in flight. To do this, they need accurate data about turbulence, both current and forecasted. 
Today, weather forecasting for turbulence is not always accurate enough. However, collecting data from aircraft in flight and actually experiencing turbulence, could improve accuracy for following aircraft. The key is data-sharing. We need to collect and share fleet-wide turbulence records using inputs from as wide a network as possible.
The expected benefits are clear:
Increased level of safety, reducing risk of passenger/crew injuries or aircraft damage. 

Greater comfort for passengers and crew.

More optimised flight plans.

More optimised fuel burn, through improved turbulence forecasts.
---
Cross-aircraft collaboration
Road navigation apps enable drivers to alert others in real time about traffic issues. Similarly, what if an aircraft actually experiencing turbulence could quickly and automatically communicate precise data to other aircraft? This means that following aircraft would be forewarned and could even adapt their flight plans to avoid the turbulence, augmenting PIREPs (Pilot Reporting) with objective, atmospheric turbulence measurements.
Turbulence EDR* (Eddy Dissipation Rate) reporting and sharing enables enhanced situational awareness and decision-making. Avionics software collects data from the aircraft and computes Turbulence EDR, sends it to the IATA ground platform where all data is crosschecked, and shared with follower aircraft. 
*EDR (Eddy Dissipation Rate) is a measure of the turbulent state of the atmosphere, independent of the aircraft. EDR has been adopted by the International Civil Aviation Organization (ICAO) since 2001 as the standard metric for atmospheric turbulence.
This turbulence measurement provides:
- accurate, objective, automated, information, independent of the aircraft type
- more precision on the turbulence area, altitudes and level
- more precision on the smooth air areas 
This means flight teams can choose optimal flight paths and altitudes, as well as accurately communicate to passengers and cabin attendants.
How it works
A turbulence report algorithm is implemented in the Airbus AOC part of the ATSU system on the A320/A330, and in the ACMS on the A350.*
*AOC Aeronautical Operational Control
ATSU Air Traffic Service Unit
ACMS Aircraft Condition Monitoring System 
It collects data from inertial systems and computes turbulence reports which can be sent by Aircraft Communications Addressing and Reporting System (ACARS) or (ACARS Over IP) to the airline or directly to the IATA platform.
This software can be installed:
- either by a dematerialised software installation on A320/A330
- or a Software Pin Programming (SPP) activation on A350
SESAR solution
R&D studies have been conducted in the frame of a SESAR project* to develop an EDR prototype of the solution and to study the exchange and use of the data on the ground, eg. Operations Control Centre (OCC) services in Europe.
*SESAR project Solution 110 - Aircraft as a Meteorological and Aeronautical Information Services (AIS) producer and consumer.
This project has received funding from the SESAR Joint Undertaking under the European Union's Horizon 2020 research and innovation programme under grant agreement No 874478.
---
IATA's Turbulence Aware Team tells more about using the system
Q1: What do airlines already collaborating with the IATA platform consider to be the main benefits?
Users see EDR reporting or real-time turbulence reporting as a paradigm shift towards data-driven turbulence mitigation. The EDR objective intensity value associated with a precise 4D location (longitude, latitude, time and altitude) constitutes the value proposition of the dataset when compared to the usual way of reporting turbulence (PIREPs).
 
By integrating the global EDR dataset into existing tools typically used in dispatch and flight deck, they can tactically and strategically use it to improve situational awareness and safety outcomes by avoiding potential turbulence encounters.
 
The EDR dataset and the real-time wind and temperature information can also be used for fuel optimization purposes. The dataset can also be used as an additional data layer to potentially avoid unnecessary AOGs related to a severe turbulence report log from the crew and safety-related investigations.
Q2: What is the interest for IATA in the implementation of the EDR algorithm proposed by Airbus on its A320, A330 and A350 aircraft?
Having the solution available as both a line-fit and retrofit on the Airbus family will support IATA's effort to grow the airline reporting capability and streamline implementation. Consequently, it will accelerate the Turbulence Aware global EDR dataset development by allowing airlines to report data from most of the Airbus models.
More: https://www.iata.org/en/services/safety-flight-operations/turbulence-platform/
---
How to join the network
Customers keen to become part of this collaborative network can contact Airbus for the implementation of the turbulence reporting algorithm in their avionics. They can contact IATA for access to the data lake where all reportings are collected and anonymously shared among all participant airlines. 
Key entry-into-service dates
A350 Family - Q4 2021
A320/A330 Family - 2023
---
The Turbulence EDR report function helps improve the comfort and safety of passengers and crew, the fuel burn consumption and the knowledge of turbulence.
It also enables a collaborative and standardised approach for different aircraft types, which will benefit all airlines choosing to implement it on their fleet. In the face of weather hazards and CO2 emission challenges, it contributes to a safe and a sustainable future.
Several airlines are already using the solution, particularly in North America. To join the network, airlines can contact Airbus for the installation of the function and IATA for access to the Turb Aware Platform.
Your contact
Florence Cardona
Airframe Services Marketing Manager - Airbus
Rui Fernandes Dos Santos
Datalink and Communication Systems Specialist - Airbus