Do you want to renew your layout of passenger accommodations (LOPAs)? Are you looking for a layout adapted to your operations?
---
Airbus Cabin Configuration Tool will show you how to best configure your cabin through the implementation of key features and understand the future potential of your in-service cabin.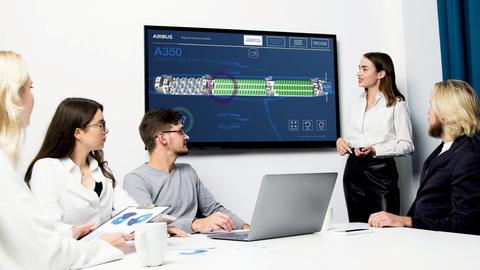 Based on a standard configuration, simulate by yourself your aircraft cabin layout change thanks to the Airbus Cabin Configuration tool with the key Airbus enablers and visualise the impact on the total seat count:
Integration of Premium Economy Class

Lavatories relocations and upgrade, Smart-Lavatory integration

Galleys removal or installations, Optimised galley configuration

Partitions or Movable Class Dividers
Indeed, cabin interiors have to be flexible to match with operational changes through the life of the aircraft. 
Our configurator will allow you to be self-sufficient in the generation of layout of passenger accommodations in order to get a first assessment of your cabins capabilities for:
Enhancing
your passenger experience
Harmonizing 
your fleet
Adapting
the classes configuration
Improving
your performance
---
If you have any questions about our Cabin Configuration tool or if you need an optimised cabin layout based on your in-service configuration, feel free to contact us via the following form.
*By checking this box, I consent to my personal data being used in the frame of the purposes mentioned below and understand that the information provided by me is subject to the Airbus Privacy Policy*.
Data controller: Airbus; Purposes: To contact you about our Services portfolio, or any other Airbus product or service that may be of interest to you; Legal basis: Data subject consent; Recipients: Airbus Group only. Information will not be shared with third parties outside Airbus.