What is the Strong Wall?
---
At 14 metres long, 10 metres high and 4.5 metres deep, the Strong Wall helps enable the development of next generation aircraft by testing full-scale wings.
Strong Wall tests are used to validate the predicted behaviour of structures and simulate the stresses that a wing goes through during a lifespan.
This can include structural and static tests to establish how, for example, the wings and fuselage behave with normal and exceptional loads.
Fatigue tests allow Engineers to push the aircraft structure to its limit to identify future design improvements.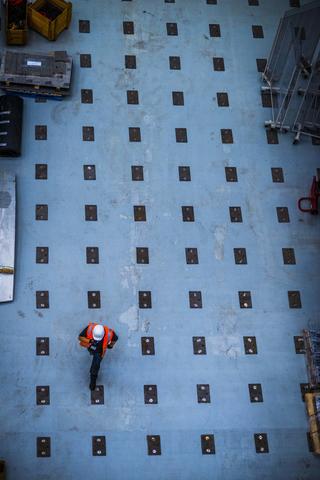 Key Statistics
---
Flexible and adaptable, the modular testing equipment can be configured for each test, instead of designing and building custom test rigs. This allows a faster & cheaper test design and setup, while supporting a full reuse philosophy. 
Maximum wing bending at limit load

Ailerons and spoilers functioning tests during maximum wing bend

Fuselage pressure tests

Fatigue tests and flight cycles simulation
Supporting the Strong Wall is a 40 metres long by 18 metres wide Strong Floor. A two metre thick concrete floor, which incorporates over 1,000 high strength anchor bolts to connect multiple high force actuators which simulate the complex load scenarios on the test specimens.
The location of the equipment includes a complex network of floor trenches that feed power, data and hydraulics to actuators and measuring equipment.
The Strong Wall is capable of taking the equivalent weight of 240 cars

The Strong Floor took 240 lorry loads of cement to create over a 24 hour period, which equates to one lorry every six minutes.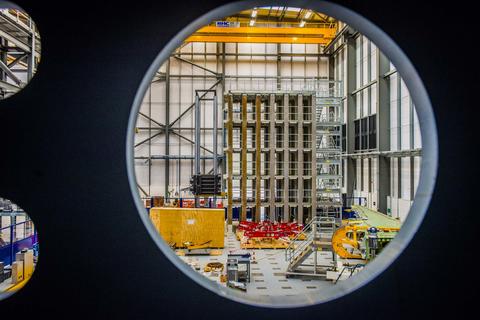 What are the Benefits?
---
The key benefits of the Strong Wall testing facility include:
Fully customised solutions 

End-to-end service, from design and build through to the testing and data analysis

Benefit from globally recognised experts in materials and structure testing technology

Access latest laboratory technologies