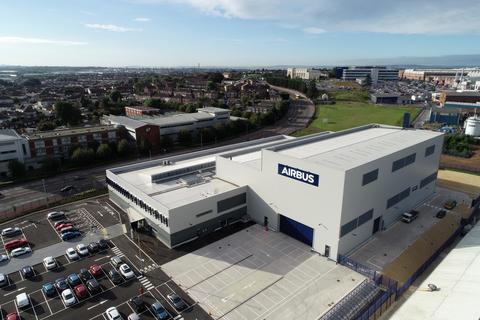 Who Are We?
---
We are a £40 million state of the art facility designed specifically to provide the most advanced working environment and tools for Airbus, suppliers, partners, and academia.
As a major global aerospace hub co-funded by both Airbus and the UK Government, we complement the world leading design, manufacturing, and assembly capabilities.
Testing Services & Solutions in Filton, U.K.
---
We carry out the full end-to-end process of design, structural analysis, manufacture and, of course, the operational testing of engineering models.
We have a number of very capable, experienced test leaders, who coordinate both our in-house tests plus the work we carry out at external facilities.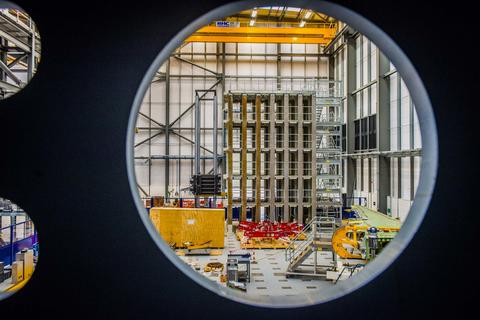 Strong Wall
---
Weighing an impressive 220 tonnes, the Airbus Strong Wall helps enable the development of future aircraft by testing full-scale wings.
The flexible and modular testing equipment is designed to allow a faster and cheaper test design and setup, while supporting a full reuse philosophy.
❝
AIRTeC offers a modern and flexible space which can accommodate a range of test specimens from 80m structures to atomic level investigations.
Pete Smith - Head of AIRTeC
The multi-million pound state of the art office complex Airbus Aerospace Park is the home of future wing design. Barnwell House engineering centre houses more than 1,000 engineers. The complex also includes the carefully restored historic Grade ll Pegasus House built in 1936 – the original headquarters of the Bristol Aeroplane Company.
A key activity on the site is advanced wing design, with highly skilled engineers working on innovative research projects to design and develop the aircraft of the future. Wing of Tomorrow is an overarching programme for all future Airbus wings. Projects focus on wing research and development in five key areas – design, fuel systems, landing gear, systems integration and manufacture.
Our Facility's Benefits
---
Complete package can be proposed from 3D modelling with an integrated and experienced engineering team 

Easier and cheaper than performing a flight test in aeronautics domain 

Test tailored to your needs and industry: many parameters can be adjustable (wind speed, temperature and pressure)